AD – GIFTED | Did you know your fingerprints are made up of several skin layers twisted together, rather like a McFlurry?! So when we found out Flora's latest Letterbox Lab science subscription box included making her own fingerprints, she was beyond excited.  All the KS2 fun science experiments for kids in Letterbox Lab's science boxes are tailored to the KS2 National Curriculum for STEM and STEAM. And they make learning outside the classroom so much fun – how could we resist getting down and dirty with soot and slime in Top Secret* this time?

Letterbox Lab
For those who haven't read our previous reviews, Letterbox Lab is a series of 12 linked science kits with full instructions and tools (you only need to add water for some of the experiments).  Online resources and videos accompany every box, plus some suggestions for further fun science experiments and extension activities.  The Explore box (for age 6+) and the Investigate box (for age 8+) both support the UK primary school curricula, and one off boxes start at £11.00 including P&P.  And it's a very flexible subscription that you can pause or cancel at any time.
Top Secret
Top Secret is the eleventh in the Investigate box series, and is all about using science to reveal secrets.  There are six different fun science activities, plus the usual Messiness star rating at the beginning of each one. The box looks at chemical reactions, thermochromism, fingerprints, colour filters, polarised light, and reflections, including building a periscope.  So, how did we get on?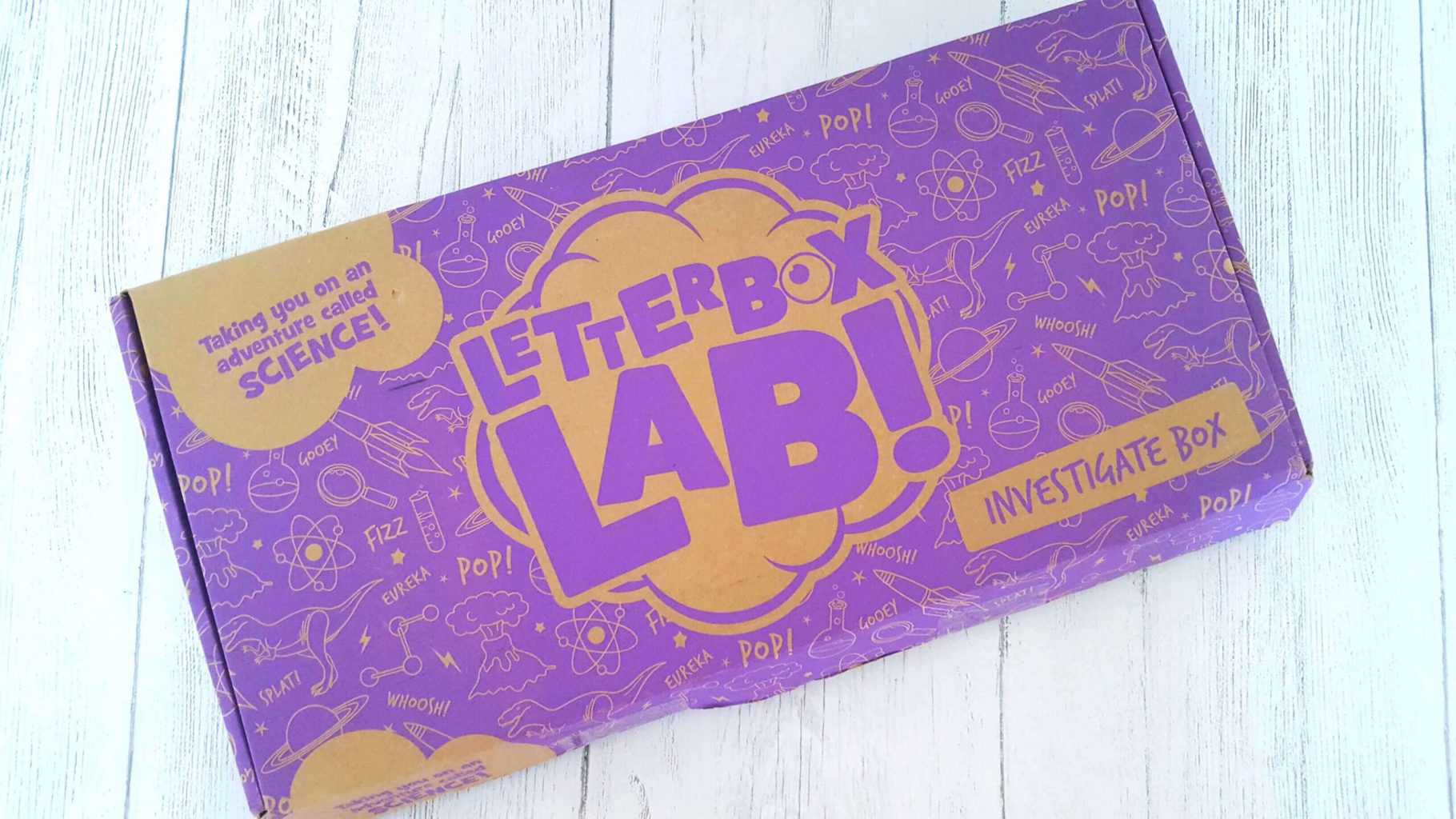 Tea Light my Fire – tea light, food colouring, some water, a plate, a glass.
See Heat – colour changing putty (slime).
Reactive Writing – 1 x sodium carbonate, 1 x iron sulphate, 1 x copper sulphate, 1 x potassium hexacyanoferrate, cotton buds, cotton pads, paper, tweezers, safety gloves, label template, the test tube rack and 4 x test tubes from Box 3, a tray, safety goggles and scissors from Box 1.
Forensic Fingers – balloon, tea light, fingerprint record card, some water, a heatproof plate.
The Third Dimension – 3D glasses, polarising filter, lolly stick, sticky back foam, frame template, scissors, mobile phone, some clear plastic objects (eg, test tubes).
Picoscope – 2 x mirrors, 12 x glue dots, scissors, pencil, the box.
A 24-page instruction booklet, a safety sheet, and a Secret Re-Agent badge.
Tea Light my Fire

Flora had to add the food colouring to some water and then pour it onto a plate. Next, she put a tea light on the plate and lit it (she's 11 but if your kids are younger you may want to do that). Then she placed a glass upside down on the tea light, and sat back to watch. What do you think happened?
Fire needs oxygen (a gas) to burn, so when it's used up all the oxygen in the glass, it goes out. But why does the water get sucked up the inside of the glass? Well, it's because the pressure has dropped and there are two hypotheses for this. One, the missing gas is the oxygen so the water should start getting sucked up before the flame goes out. Two, the flame heats up the air, making it expand and escape out of the glass, so when the flame goes out, the air cools and takes up less space, and the water gets sucked up. So, which is it? Watch again.
Is hypothesis one or two most likely to be true? Or, could they both be true? And were you right? 🙂
See Heat

Slime is great, but when it changes colour because of heat then it's even better… This experiment was all about thermochromism (thermo = heat, chromism = changing colour). Remember our photochromism experiment with the beads and UV light back in Box 5? This is the same but with heat. Watch what happens when Flora sandwiched the flattened slime between her warm hands for a few seconds.

And then what happens when she placed something really cold on the slime. (Yes, that is a novelty submarine ice cube, thank you for asking).

Heat is a kind of energy and when something is hot, the tiny atoms shake fast and bump into other atoms, making them shake as well. This experiment was also about testing to discover which materials were the best conductors of heat.
Reactive Writing

We roped in one of Flora's Y6 school friends for this next fun science experiment, testing a series of chemicals to find out which combination of reactions made the best formula for writing secret messages.

They had to dip a cotton bud into one chemical, write with it, and then dip a piece of cotton pad into another chemical and wipe it over the top. With 12 chemical combinations to try, it took a little while, but it was great fun seeing what worked and what didn't. Here's the winning formula, writing with iron sulphate and wiping over with potassium hexacyanoferrate. A far cry from my writing with lemon juice and holding over a light bulb days…

Forensic Fingers

If you'd told me you could hold a balloon in a flame without it exploding, I wouldn't have believed you. But it turns out you can. Flora filled a balloon with water, about half the size of a normal balloon and then lit her tea light on the plate. Rather tentatively she lowered the balloon into the flame for a couple of minutes, to enable a build up of soot. For those of you wondering why the balloon didn't explode, it's because the cold water absorbs the heat, so the rubber never heats up enough to break. Phew.
It did take quite a while to build up enough soot for each finger (around ten minutes overall) but then she could roll her fingers in it for her own personal, unique fingerprint record card. Fun fact: remember that McFlurry analogy? The ridges of skin forming your fingerprints were formed before you were born, when your skin layers were growing at different speeds and squashed each other. And that's why everyone in the world has unique fingerprints, even identical twins. Truly a secret message, especially at crime scenes 🙂

The Third Dimension

Remember the rainbow spinner back in Box 1, Marvellous Mixtures? White light is made up from all the different colours of the rainbow. Flora used the 3D glasses to see how colour changes when colour filters (red and blue) only allow certain colours pass through. When she covered the blue lens, the red dot turned dark blue and the red dot turned yellow. And when she covered the red lens, the blue dot turned grey and the red dot turned dark brown. In the real world, everything is in 3D but we see flat images in 2D. 

When light hits our retinas, our brains put the 2D images from each eye together to create a world with depth. The 3D glasses block coloured light from reaching each eye so even when the images are flat, like the blue and red The Third Dimension title in the booklet, you see the illusion of depth. Taking this further, do you remember the fad some years ago for wearing 3D glasses in the cinema? Well, cinemas use polarised light and to demonstrate this in action, Flora had to make her own polarising filter. And look what happens when you view an LCD phone screen through the polarising filter…

Light travels in wobbly waves in all directions. But polarised light wobbles in one direction and our filter removes all light that travels in any other directions. Light from an LCD phone screen is polarised so if the light from here doesn't match the filter, it gets blocked and the screen should look black (which is how 3D films work, to block different images). However… plastic changes the polarisation of light and affects different colours differently. And because Flora has a plastic screen guard on her phone, that's why you see this beautiful rainbow effect in the picture 🙂
Picoscope

Time for the last of our fun science experiments to discover how light bounces by turning our box into a periscope. Flora had to cut two flaps in two specific places on her box and stick the mirrors onto each flap. Confession time: we used some heavy duty scissors for this, as the smaller ones from Box 1 couldn't cope with the cardboard.
And then, when you look through the bottom of the periscope, you can see an image from much higher up – a plant on top of our piano in this case. (Apologies, this was quite hard to demonstrate in a photo). Basically, when light hits a shiny thing, it bounces in a specific way and at a specific angle, so you can see what's reflected in the top mirror, even if there's something else in the way, such as a piano. Or several metres of water in the case of a submarine. And if you tilt the periscope on its side, we discovered you can even see around corners 🙂

Final thoughts on these fun science experiments
This time we carried out all the experiments in two separate sessions, to spread out the fun, although I'm sure you could easily do them all in one day. Flora's favourite fun science experiments were Tea Light my Fire and Reactive Writing – although she's still having fun with the putty slime from See Heat too!  Big thank you again to Letterbox Lab for our eleventh Investigate box, we loved it.  And even though our next box will be our last one, which is truly very sad, Flora and I can't wait to discover how science has made the world a better place with Go Forth and Science in Box 12.
Did you enjoy learning more about fingerprints, polarised light, and secret messaging?  Which experiment is your favourite?  Do you know any kids who'd love to try Top Secret – or discover more about science in general – with one of these amazing subscription boxes?

* This post features gifted items but all opinions are our own (please see my Disclaimer).